My name is Laurie Maris; I lived in California for over 13 years with my husband, my three very active children and a menagerie of pets. That is where I started Pampered Pups and had many wonderful clients for whom I am extremely thankful for. In January 2010 my family relocated to Marysville OH, a suburb of Columbus OH . I was very excited about the opportunity to expand my business. And expand I did! Since my move in 2010 I have trained over 100 dogs and owners in Central Ohio.
I have a deep connection with dogs and there has never been a time in my life that I didn't have a dog. When I was a child our dogs were always very well mannered because my father and I trained them that way. I have always been taught how to be the "leader" which is the first step regardless of what method of training is being used. I began formally training my dogs almost 20 years ago through obedience classes. My dogs have achieved obedience award ribbons and have been Good Canine Citizens. In 2007 I decided to fulfill my biggest passion in life and began training dogs professionally. I have apprenticed with and contracted for one of the biggest dog training and behaviorist companies/franchises in the Sacramento area. I have created Pampered Pups so I can give my customers the best personal service possible, the relationship between my clients and their pets is very personal and emotional; I plan to stay in touch with that always. I continue my canine education as a member of the APDT, I have also attended any and every seminar/class possible. In my spare time I have volunteered at the Placer SPCA in Roseville, CA walking, socializing and helping to train the shelter dogs and I plan to continue volunteering at local shelters wherever I am.
I take a very practical and positive approach to my training. I also do not adhere to one particular method, what works for one dog regardless of breed may not work the same for another. We chose together what method or combination of methods is going to work for everyone including the dog, don't worry your pup will be happy because there is a lot of Positive Reinforcement involved! First and foremost you will learn how to be a good leader by learning canine body language, how a dog thinks, cues we could be giving them, nutrition and much more. The "meat and potatoes" are all in that first lesson along with getting your pup started on sit, down, and a few other commands. In the second lesson you will learn how to get your dog in a stay and the practical uses for stay and so on. Each lesson we will always review the lesson prior, talk about the positive, help fix any problems and build on what was learned previously. I cannot and will not call myself a Behaviorist. I do hold a Bachelor's degree however it is not in Behavioral science. However, behavior modification is what I specialize in with proper and practical use of obedience and leadership.
I love my kitty!!! Daizy - "Watch Me"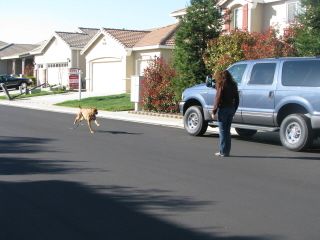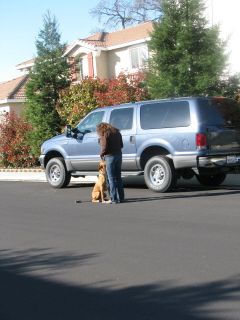 Duke - "Come!"