Here is what some clients have had to say about Laurie:
Email me today to start on your own testimonial! lauriemaris@gmail.com



We have the best dog in the world and then there is Bandit. After a couple of trainers, and much stress, Laurie entered our life and made everything better. I had never owned a small dog and Laurie helped me see that taking a leadership role was easy and the best part? It eased my dogs anxiety tremendously.

I had read blogs, watched countless videos, spent tons of money on different treats and trainers. and was ready to give up. Bandit was afraid of EVERYTHING, but he came across like an attack dog.
Now I can walk around the neighborhood. Yes, a real walk with a dog on a leash that doesn't lunge, bark, and drag us around. The best part? All of this after just ONE SESSION with Laurie. We love the magic collar and know we can call Laurie if the need arises. One of the best compliments we got was from our neighbor who said they noticed a HUGE improvement in Bandit. THANK YOU LAURIE! Your help was invaluable.
Barbara and Ken Wagner
Delaware OH






I cannot thank you enough for helping us the way you did! I only wish we would have brought you in sooner! Many of the changes we made with Bella's training showed immediate results, and others only took a few days to get Bella to respond. We were clueless about the correct way to train our dog, and you changed that! Bella seems happier, and we are definitely happier, too! Our carpet cleaner has only been out of the closet a couple of times since you were here, instead of two or three times a day, like it had been. :)
I would gladly recommend you to anyone who is looking for a dog trainer!
Lieghann - Marysville OH





Laurie. I want to thank you for being available for us on such short notice and for the amount of time you spent with us tonight!!! We obviously have some challenges with potty training Bernie due to his age when we adopted him ( 4 months, 1 week), his size (41 pound Bernese), and his prior environment (being with his litter mates until he was 4 months old). The information and tools you gave us were and will continue to be very helpful! We have already seen improvement, even though you have only been gone from the house for 2 hours. Can't wait to see what an enjoyable family member he will become with your instruction and our continued training! Cannot thank or praise you enough!
- The Langhirt Family Delaware OH
We got our dog Millie from the pound when she was about a year old. She seemed like a sweet dog who according to the pound was trained in a few tricks and had no behavioral issues. Little did we know what we were getting ourselves into! Millie was a very energetic dog and she loved to chewed on everything when we weren't home! I tried everything that I could think of to wear her our so she would rest while we wasn't home and stop chewing, but nothing seemed to work. Luckily I found Laurie! During the first consultation and training session with Laurie my fiancée and I learned what we needed to do to help Millie become the super dog she really is! After a quick change in our behavior and some consistent training, Millie was doing her old tricks like a pro. Within two weeks Millie no longer chewed on anything. Within 2 months of training about 15 minutes sporadically throughout the day Millie went from not listening to any commands to knowing 7 distinct commands, including leaving a dog treat on her paw and completely ignoring it until I tell her she can take it! Most importantly though, the training has made Millie a much happier dog, and that is priceless!
Jonathan and Meggie, Marysville OH





Hi Laurie,
Just wanted to thank you so much for your advice & training of our Sheltie, Misty. She was
a little terror until you worked your magic on her. She no longer nips, barks at us or jumps at us and walks nicely on a leash instead of pulling us around. Your nominal fee was well worth it.
Dona and George, Lincoln, Ca.
I found Laurie on line and wondered if she would be able to help us in our dilemma with our new shih tzu mix puppy. One of my main concerns was he was still a puppy and quite small and I wasn't sure if she had worked with little dogs as stubborn as our little guy.
She set my mind at ease when we spoke over the phone and she was willing to drive the twenty some miles to come to our home.
After her first visit we saw a big change in our little one but mostly WE learned how to deal with some of the issues our puppy was having. Laurie had an answer for everything and was so patient and calm in working with all three of us. Here was this little tiny woman who spoke with a soft voice finally getting some response and Romeo's attention. We knew there was hope and we couldn't wait for Laurie's next visit.
The training sessions are now over but we feel we have the tools to continue working with Romeo and we just know he'll turn out to be a good obedient dog.
Thanks Laurie for all your valuable advice.
Peggy and Sal, Auburn CA
(Baby Romeo)

Sasha is doing great & we are really enjoying her. She knows all her commands really well & performs admirably with the leash on. We still have work to do with the "off leash." At times she seems smarter than her owners :o)
Thanks for all your help!


John and Ginny, Lincoln Hills, CA


(Sasha)
Before we hired Laurie to be our personal dog trainer, we considered finding a new home for Lucy. She exhibited behaviors that were a mystery to us. We have had many dogs over the years and training never seemed to be an issue. Lucy was different. She was extremely independent and stubborn. Laurie helped to train us by giving us the tools to train Lucy. With the proper techniques, we were able to see instant results and know there was hope. Laurie also helped us to understand some of Lucy's behavior and how to deal with and change it. The biggest thing that Laurie gave to us is a relationship with our dog. There is always room for improvement but we are getting much more joy from Lucy and she is a permanent part of our lives. --
Rose & Ralph, Yuba City CA

Because of Laurie and her great expertise with dogs, our Roxie has become a lady and passed "charm school" and made us proud with her manners.--

Harvi & Steve, Lincoln CA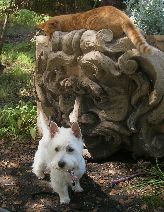 (Roxie)

"I know that cat is around here somewhere!"





Dear Laurie,

Thank you for checking up on our progress with Baxter. Our little Mini-Pin has aways been a challenge but you gave us some great strategies for being the leader in our home. He has to sit and stay before he gets fed, he is put in a chair and stays while we eat our dinner and is not allowed to beg at the table, he walks behind when we are on our walks and never takes the lead position.

We think you are very professional and a great dog trainer. Your love of animals shows through. Baxter is a better dog for your help in training us. From the first lesson I realized my husband and I were being trained not Baxter. We were the key to better behavior for the dog. You have to love your dog enough to make him behave. Thanks again for the valuable lessons.

Sue Miller

Stockton, CA

Dear Laurie,

I have meant to write for a while about how pleased we have been with your help training Gimli and Lulu. Our two bullies are great thanks to you and your training. We often revisit things you taught us and it sure does give peace in the house to have the dogs listen and obey (especially because some people are scared by the look of our dogs)!

The Bimsons, Davis CA

Here they are on a sit-stay and down-stay for the picture we used on our Christmas cards!
Hi Laurie,

My family and I just want to say thank you for all the help you have provided to us and our wonderful new puppy Booboo! Everyone just adores our newest family member and especially admires her good behavior. She doesn't jump on visitors when they walk in, she doesn't run out of the door or jump on furniture without invitation. She uses the service bell to let us know when she needs to go outside. She is fantastic at performing "down-stay", "heal", and "leave-it". The training you have provided to our puppy has proven to be invaluable. We don't have to worry about her running into the street after cars, people or other dogs. We think she is the best dog we've ever had. Thank you again!
Brandy - Orangevale, CA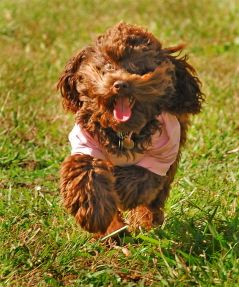 (BooBoo)
Laurie is our dog Yoda! Sacramento, CA

Laurie is just this little thing in cowboy boots but boy does she get those dogs to listen to her.
T. in Roseville, CA


Beginning in February 2010 I will be serving the Northern and Northwestern Columbus area including but not limited to Marysville OH, Delaware OH, Dublin OH, Westerville OH, Hilliard OH, Marion OH, Urbana OH, Bellefontaine OH, Kenton OH.